MSc A.N. Abarca Prouza
PhD student
Electronic Instrumentation (EI)
,
Department of Microelectronics
PhD thesis (Sep 2021): In-pixel temperature sensors for dark current compensation of a CMOS image sensor
Promotor: Albert Theuwissen
Themes:
CMOS Image Sensors
Biography
Accel was born on 25 December 1983 in Santiago, Chile. He received his B.Sc. and Diploma degree (highest distinction) in Electrical Engineering from the University of Chile, Chile, in 2011. After that he worked as researcher at the University of Chile and the Advanced Mining Technology Center (AMTC) in the area of sensors for meteorology and seismology. In 2013 he started his Master at TUDelft in Microelectronics thanks to a full scholarship granted by the Chilean government. He graduated in 2015 with a Master thesis work in the area of flow independent thermal conductivity detectors for gas sensing. He is currently working as a researcher at the Electronic Instrumentation Laboratory of TUDelft in the area of integrated temperature sensors into CMOS image sensors. Accel is a big football fan and also likes cycle tourism.
Last updated: 4 Jan 2022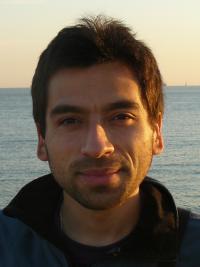 Accel Abarca Prouza
Alumnus